Snickers Cups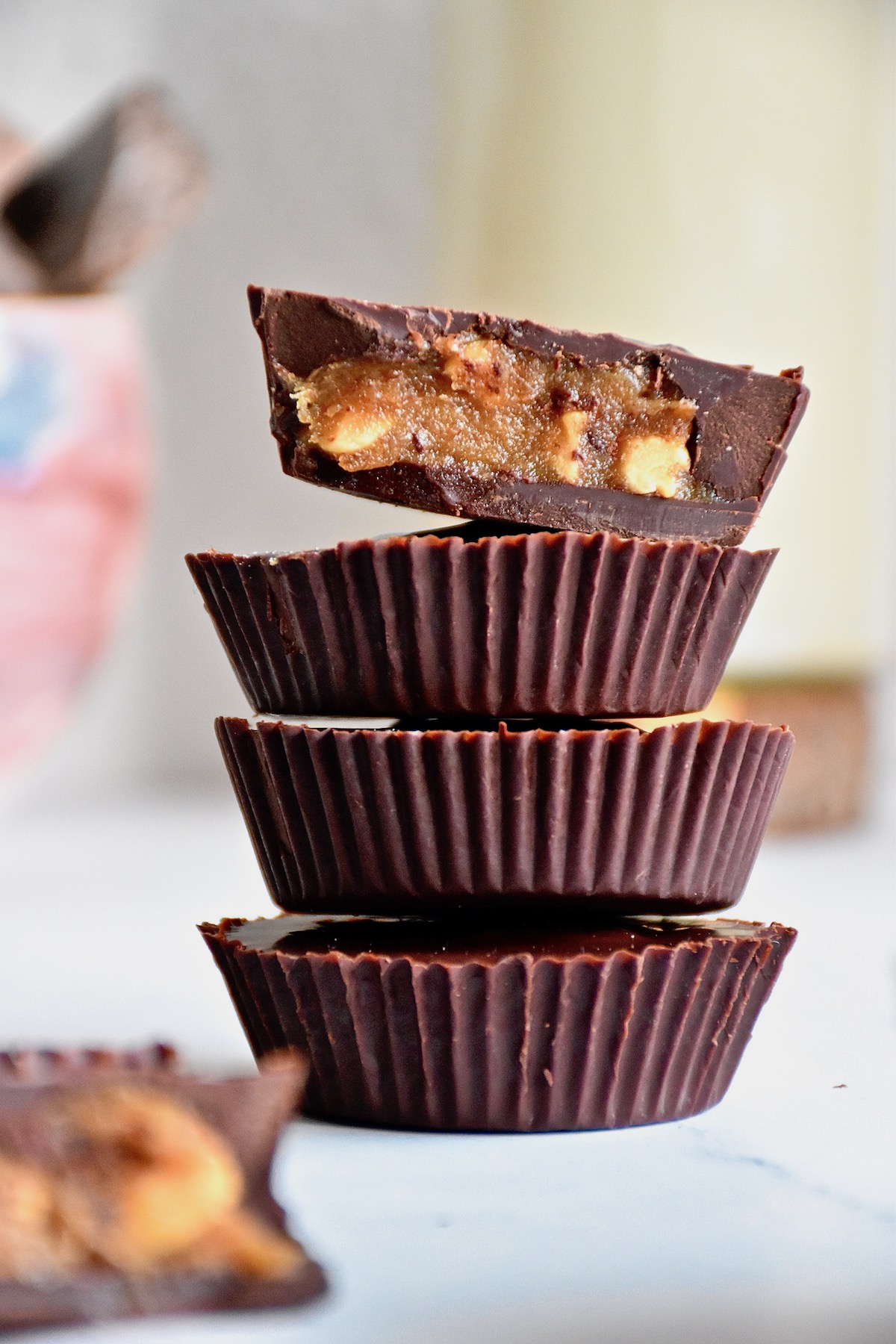 AD: This recipe was developed for Camilles Cacao Love
Peanut Butter, Dates and Cacao will give you the most delicious Snickers Cups you can imagine. Feel free to share a cup with someone you care about and feel how the powerfull depth of the cacao fill both your hearts and bellies.
More yummy chocolate treats:
Snickers Cups
Healthy, hearty Snickers cups – Yummy in my tummy!
Ingredients
150

g

cacao

60

g

pitted, dried dates

85

g

peanut butter

15

g

peanuts

pinch of vanilla powder
Instructions
Measure the cacao and melt it over a water bath.

Meanwhile, blend dates and peanutbutter in a food processor/blender until smooth. Add some water if needed.

Chop the peanuts and mix them and the vanilla with the peanut cream.

Add 2 tbsp melted cacao to a muffin cup and turn it, so the cacao will coat the inside of the cup. Leave about 1⁄2 cm along the top of the sides free so you can take them out again. Set aside in the freezer for 5 min to allow the cacao to solidify

Distribute the peanut cream in the four muffin cup. Use a teaspoon to shape the peanut cream into the middle with spacealong the sides, so the cacao can run down along here.

Add 3 tbsp melted cacao on top of each muffin cup and leaveit to run down the size to form a "lid" on top of the peanutbutter cup.

Leave them to cool in the freezer for 5 min before enjoying.

Keep in the fridge for 2-3 weeks or freezer for 4-5 weeks.
Did you make this recipe? Mention @cuminandyin or tag #cuminandyin
---
---