Fresh and easy kale tomato salad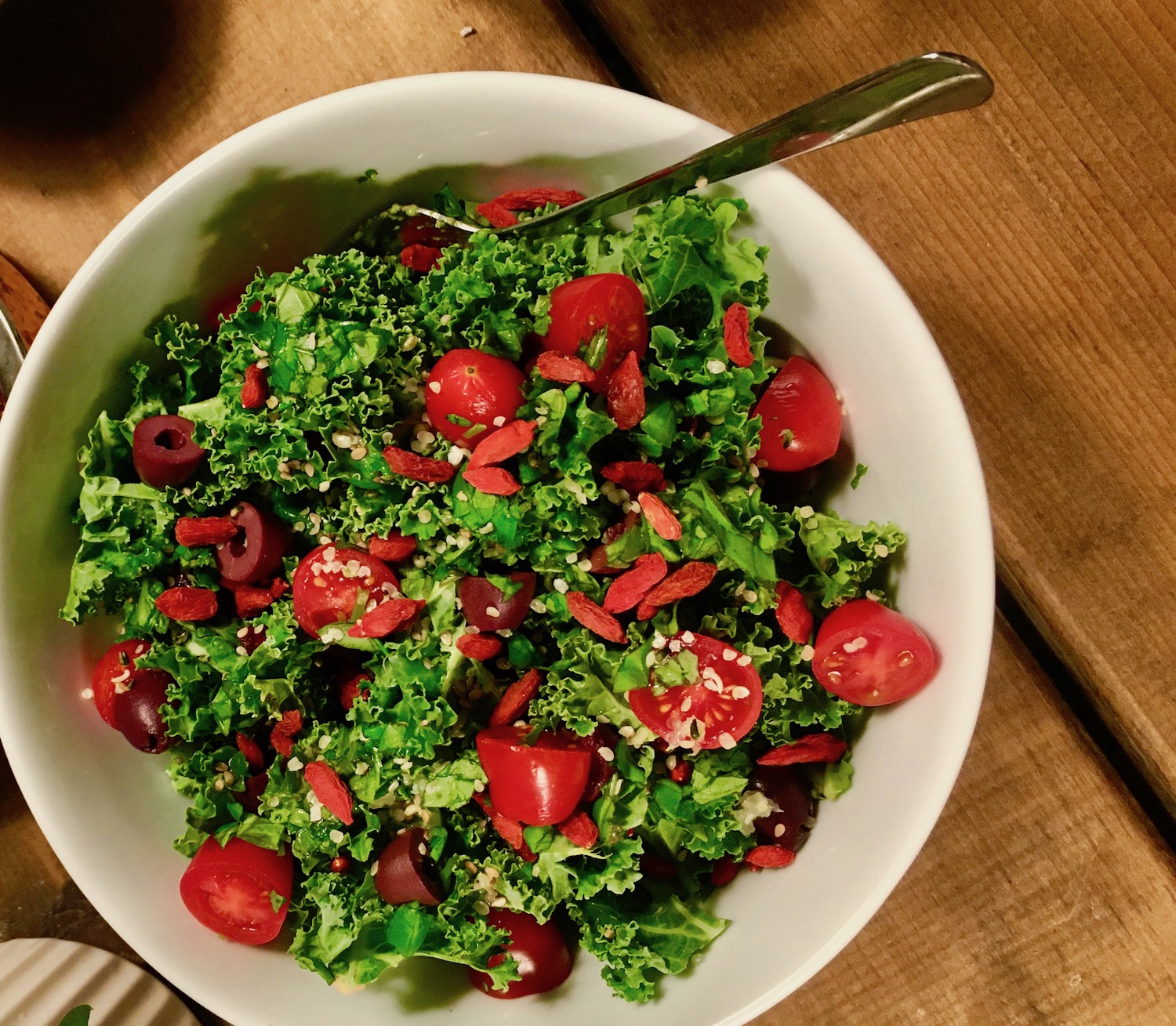 This fresh and easy kale tomato salad is my number one go to after a busy day at work. I love how fast it is to make and the ingredients are easy replaceable with whatever leftover veggies the fridge may contain. And because kale is quiet chewy, it gives you loads of time to spend at the dinner table with whoever you are sharing this meal with.
Main and side dish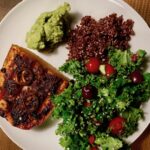 This recipe can be used as main dish or a side dish to whatever else you are cooking. I think it goes well with sweet potatoes or any kind of pumpkin. As you can see I added the salad to a main dish consisting of glazed butternut squash with quinoa and a some guac. YUM!!


Kale salad with quinoa
Some days a salad just is not enough for lunch or dinner and this is where cooked quinoa comes into the picture. It is an amazing superfood that goes well with kale! I prefer the red or black quinoa, and I like to add a garlic clove when cooking it (or an onion) to give it a bit more taste. Whether you stir in the quinoa or just eat it on the side does not matter. Tastes perfect either way.
Kale tomato salad
Easy and healthy kale tomato salad. Great for lunch or as a side dish to a main course.
Ingredients
3

leaves

kale

10

black olives

10

small sized tomatoes

(I prefer san marzano)

½

red capsicum

(optional)

1

tbsp

goji berries

1-2

tsp

hemp seeds

1

tbsp

apple cider vinegar

(optional, balsamic vinegar can also do)
Instructions
Rinse the vegetables. The kale might need a bit of extra rinsing due to its crinkly leaves (you can usually buy prerinsed and chopped, if you want to make the recipe extra quick).

Chop the kale and capsicum in edible and desired pieces. Add it to a bowl.

Chop the tomatoes and olives in half. Add it to the bowl with kale and capsicum and give it a mix.

Sprinkle goji berries and and hemp seeds on top of the salad and add the apple cider vinegar.
Did you make this recipe? Mention @cuminandyin or tag #cuminandyin
---
---