Carrot and sunflower seeds rolls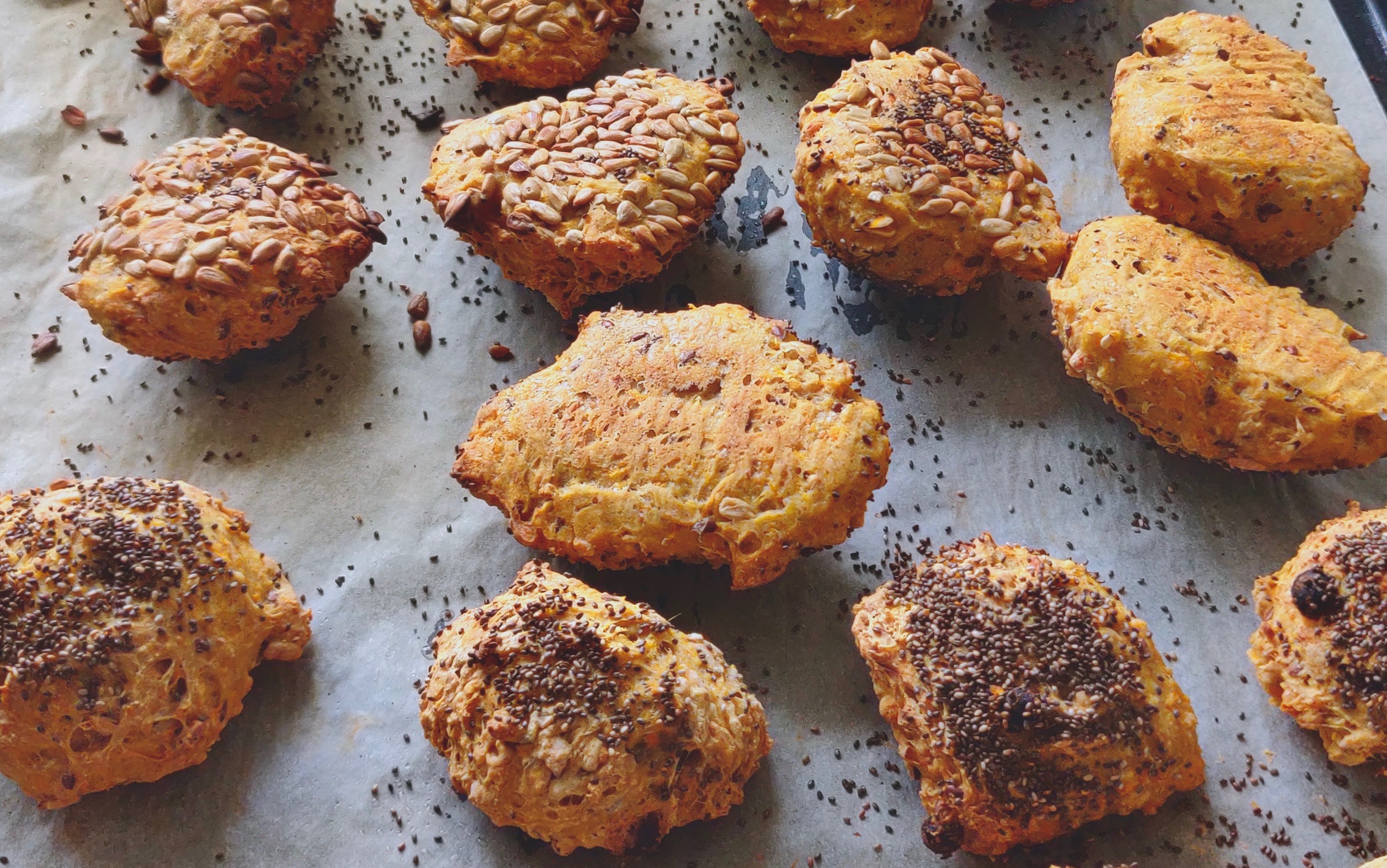 These crispy carrot and sunflower seeds rolls will give you a wonderfull start to your day and keep you going until lunch or even dinner. They are high in fibers and adding grains make them super rich in nutrients. The benefit of overnight rising is the wonderfull smell of freshly baked bread in the morning.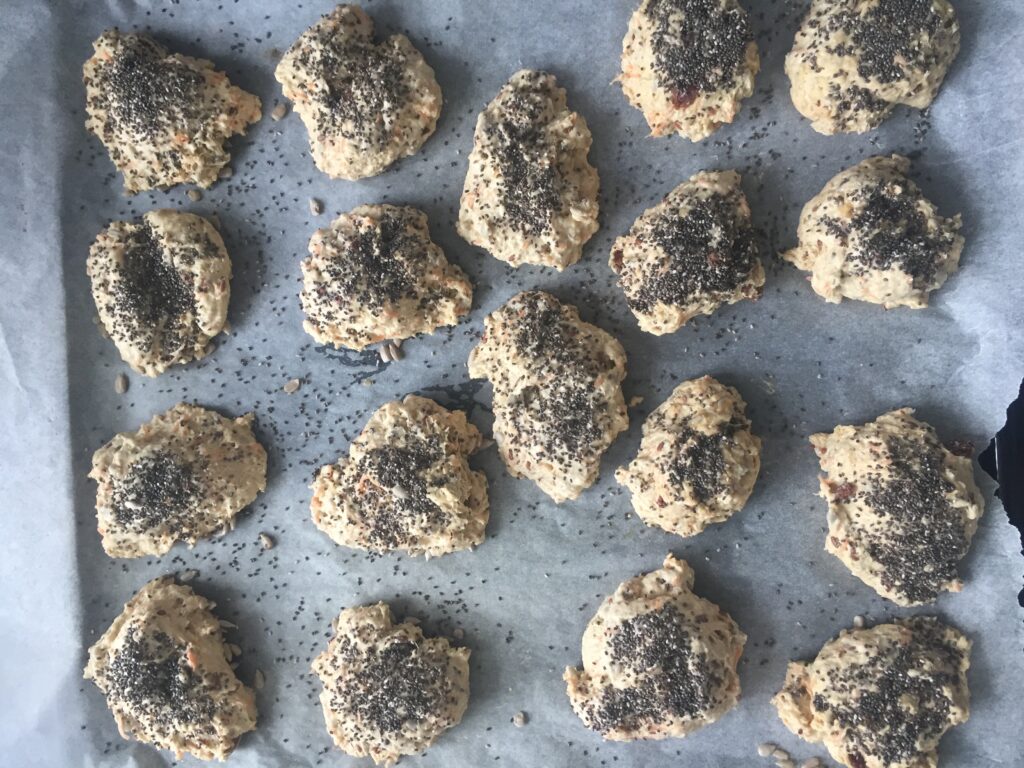 What you cannot see until they are baked is the amazing orange colour that the rolls gain from the beta carotene contained in carrots. A pigment that our body transforms into vitamin A and a fun fact is that having too much of this pigment can give your skin an orangy colour. This is especially visual in your palms and face – I have tried it, when snacking too many carrots everyday for a longer period.
The rolls can easily be frozen and enjoyed later on.
Carrot and sunflower seeds rolls
Rolls that are healthy and rich in fibers. The carrots give an amazing sweet taste to them and the carotene gives them the beautiful orangy colour – all naturally.
Ingredients
25

g

fresh yeast

600

ml

water (lukewarm)

1

tsp

salt

1

tsp

maple syrup

(optional)

2

tbsp

oil

(I used olive)

100

ml

soy yoghurt

(optional)*

500

g

all purpose flour (wheat flour)

200

g

quick oats

200

g

graham flour

200

g

carrot (~4 medium sized carrots)

2

tbsp

psyllium husk

150

g

sunflower seeds

2

tbsp

chia seeds

(optional)

2

tbsp

flax seeds

(optional)

0.5-1

dl

raisins

(optional)
Instructions
Evening
Mix all the wet ingredients and the fresh yeast.

Grate the carrot and add this to the wet mixture. (If you like bigger pieces of carrot, you can shred it instead.)

In a seperate bowl, add all the dry ingredients and mix them together. *NB! If you do not have any soy yoghurt and leave it out, add less dry ingredients! The dough is suppose to be a bit sticky.

Combine the wet and dry mixtures and mix it for about 10 min. If you do not have a (hand) mixer, you can always use a large (wooden) spoon and mix it. The dough may be too sticky to knead it by hand.

Let it rise overnight in a cool place. (or during the day, if you are making them as a late afternoon snack)
Morning
Preheat the oven to 200°C (convection oven).

Prepare a baking tray with baking paper. You can sprinkle some seeds on to the baking paper in circles, where you want to place the rolls on top. This will give them a nice crunchy base.

Use a tablespoon to form the rolls and dip the spoon in a glass of cold water between each roll. (I am very lazy and do not care about a perfect round one. This will give the rolls to a homemade charm to them) Ad some seeds on top of the rolls.

Bake one tray of rolls for about 20 min.

Let them sit for 5-10 min before eating them. This way you will avoid soggy rolls.
Notes
* If you do not have any soy youghurt and leave it out, add less dry ingredients!
Did you make this recipe? Mention @cuminandyin or tag #cuminandyin
---
---