Roasted Almond Butter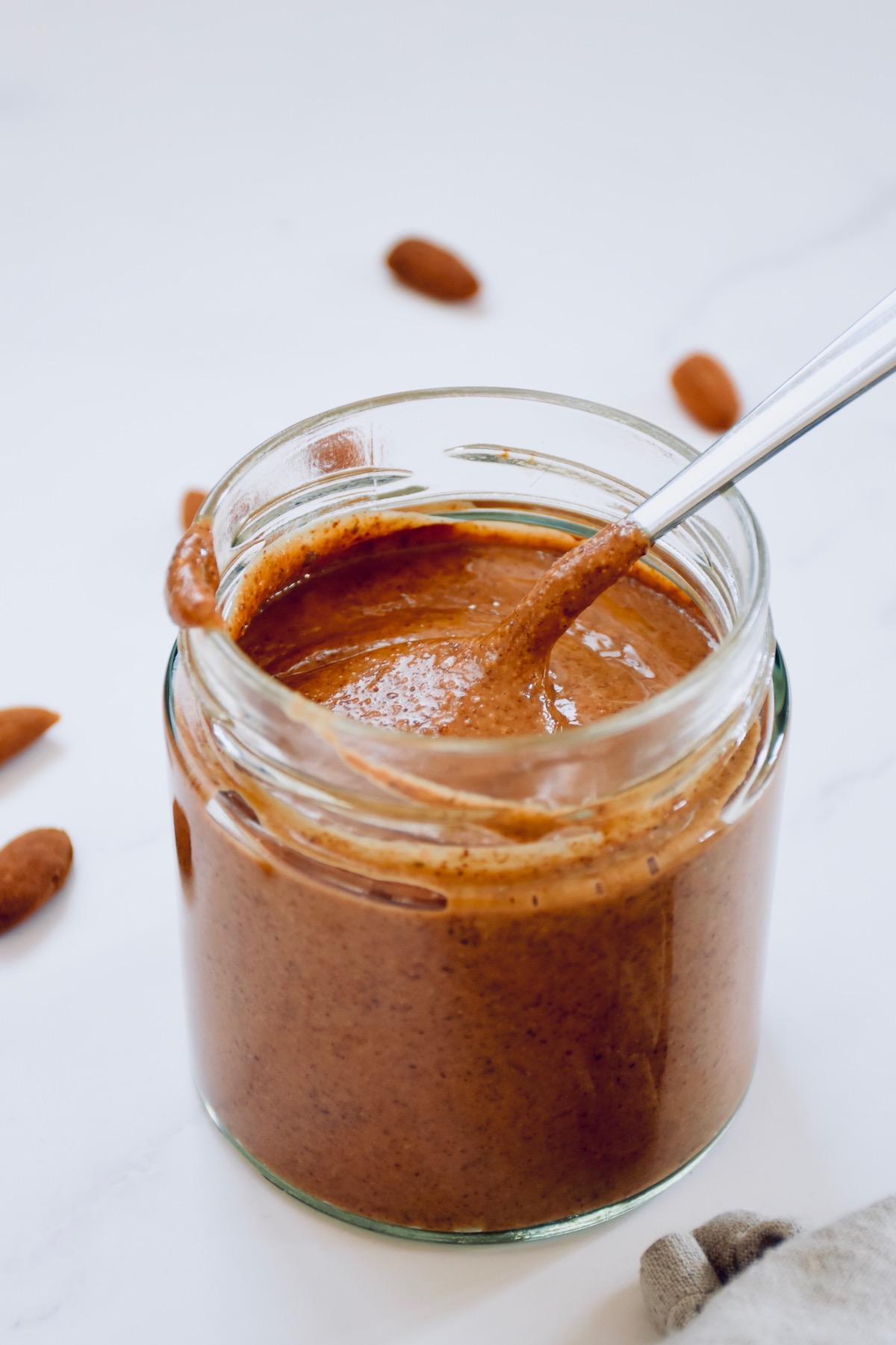 Try this 1-ingredient deliciously creamy roasted almond butter. It is so much better than the store bought and you can be certain that it's pure almonds and nothing else.
Benefits of roasting almonds below 130°C
You might have seen other recipes for almond butter that are a lot faster, because the roasting is done at a higher temperature and thus a shorter roasting time. After having my almonds turning out burned a few times, I decided to do some reading on what happens to the nutrients in the nuts when roasting them. Interestingly, this turns out to be quite different for each kind. Almonds are amongst the types of nuts which benefits from roasting at a lower temperature. The high amount of vitamin E found in almonds decreases the higher the roasting temperature. In addition, the roasting temperature has an impact on the formation of a harmfull substance called "Acrylamide"*, but by keeping the roasting temperatures below 130°C you can avoid/minimise the amount formed.
* the amount found in roasted almonds is a lot lower than what is considered harmful, but I still prefer to avoid it, now that I know how easy it is.
Source: healthline.com
Other yummy spreads:
Roasted Almond Butter
1-ingredient deliciously creamy roasted almond butter that you simply can't resist.
Instructions
Turn on the oven to 125°C.

Place the almonds on a baking trey and bake for about 35-40 minutes.*

Add to a high speed blender or food processor and blend until smooth. You might have to stop once in a while to scrape down the sides. Have patience, it will get smooth in about 5-10 minutes, depending on your blender.

Store in a clean jar for up to month in the fridge.
Notes
* You can skip the roasting process, if you prefer a lighter taste.
Did you make this recipe? Mention @cuminandyin or tag #cuminandyin
---
---